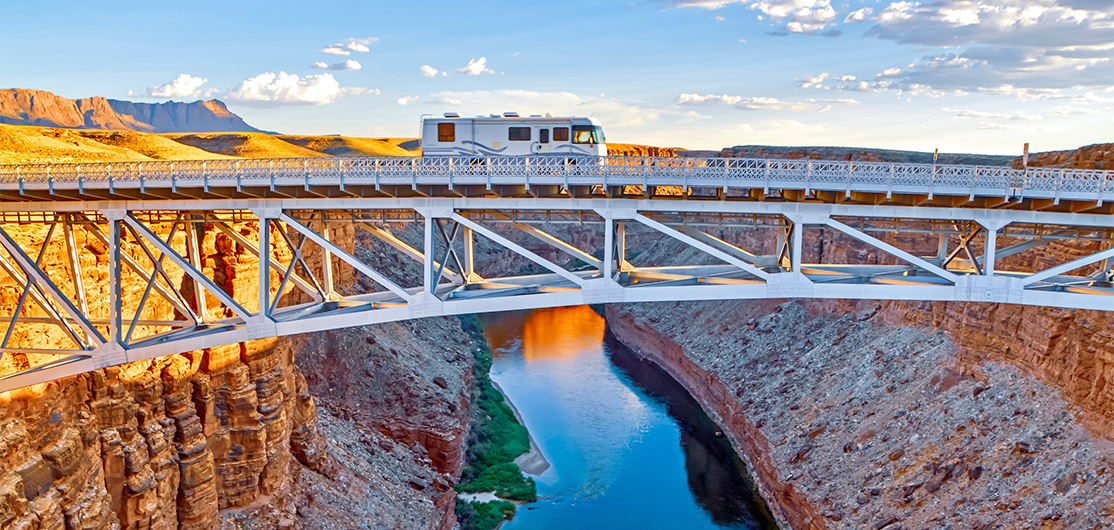 4 Things to Consider Before Buying an RV
Whether for local jaunts or a several-week adventure, purchasing a recreational vehicle can provide an unlimited amount of enjoyment for you and your family—particularly during a time where social distancing and contained forms of travel are preferred. It is also a significant financial investment, and as with any financial commitment, education is key to making the best decision. Here are 4 critical questions to ask when considering the purchase of an RV.
1. How Big of an RV?
Consider what classification is the right fit for you. RV Classification can be confusing, and with each step up in size, although you will have more rooms and amenities, you are almost certainly going to pay more. Plus, larger RVs tend to require more skills to navigate effectively.
Driving Options
Class-A are your largest RVs and most states, including California, require a non-commercial "Class B" license for motorhomes over 40'.
Class-B is a great choice due to the price, versatility, and ease of operation and are typically referred to as "Camper Vans".
Class-C RVs are smaller versions of the Class-A RVs and are built on a classic truck or cab chassis. They come with an array of amenities and sleeping options, typically topping out at comfortably sleeping 4.
Towing Options
Towing options include small campers, pop-ups, fifth wheels and travel trailers. Trailers can be very convenient as you can park them and then use your vehicle to easily drive to places such as a local grocery store. If you go this route, you'll want to check your vehicle's towing capacity before purchasing a trailer.
Pro Tip: Unless you are seriously committed to RVing on long extended trips, multiple times per year, then a Class-C trailer is preferred over a Class-A trailer.
2. Where Will Your RV Rest?
You have two options here: your driveway/yard or a storage center. Many communities in Southern California have HOAs that restrict RVs on property, so check your Covenants, Conditions & Restrictions (CC&Rs) before purchasing. If you plan to store the RV, you'll want to consider the additional cost of doing so; usually ranging between $200-$500 a month.
Pro Tip: If you plan to house the RV on your property, do precise measurements before committing—this includes accounting for any eaves and/or overhangs, and measuring no further than the sidewalk easement.
3. New vs. Used
RVs that are over 10 years old typically cannot be financed; and as a result, you will need to pay cash directly to the seller. For this reason, most RV Retailers do not carry old RVs. However, if you decide to take this route, you can hire a specialist to come inspect the RV with you—a few hundred dollars could save you thousands in repairs.
In addition to all the bells and whistles, newer RVs are eligible for financing. Plus, the newer they are, the lower the rate typically is.
Pro Tip: If you purchase an older RV, inspect the roof for any sign of leakage. Much like houses, once water gets through the roof and into the walls it will be a hidden curse on your ownership plans…unless you love self-renovating, in which case, you might score a deal.
4. Cash vs. Financing
Unlike a trip to Hawaii where the money is spent and only to return in the form of sunset selfies and memories, an RV is an asset and an opportunity to travel, while keeping your finances flexible and cash accessible. If you pay cash for your RV, the only way to is to liquidate or sell it; which might take some time and potentially put you in a desperate seller position. If your RV is financed and you want to sell it, you will be far more likely to wait for a "great offer" and not just the "best offer".
Pro Tip: An older vehicle with low mileage can be a good option, but be sure that the low mileage does not also mean the vehicle was neglected. An RV that sat around unused for years can develop problems. You can pull the Carfax report for about $40 to see how mileage was accumulated over the years.
Interested in financing an RV through Wheelhouse Credit Union? Check out your options here.