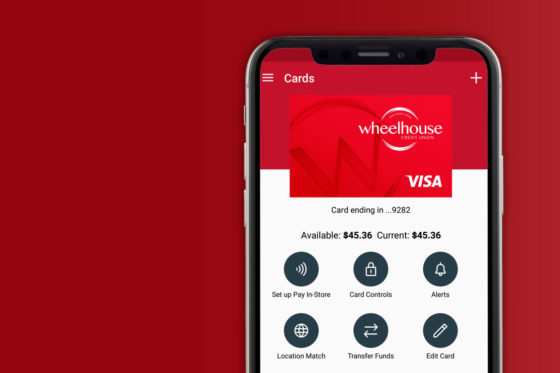 WHEELHOUSE CARD APP
MORE FEATURES, SECURITY AND CONTROL IN YOUR POCKET
SECURITY AND CONTROL FOR YOUR WHEELHOUSE DEBIT AND CREDIT CARD
Manage your Wheelhouse Credit and Debit Cards from your mobile device. With the Wheelhouse Card App, you can:
Features
MONITOR ALL CARDS
Tap the "+" symbol to add multiple Wheelhouse Visa Credit and Debit Cards. Manage each card by swiping left or right on the app's main home screen.
MANAGE ALERTS
The Alerts feature allow users to set up real-time alerts for selected high risk card transactions. These transactions include amount thresholds, international transactions, gas station purchases and more. Manage how you receive those alerts through multiple notification options!
CARD CONTROL
Tap the Card Controls button to instantly "Turn On" or "Turn Off" any card. Any transaction attempted when the card is turned off will be declined. Enjoy the peace of mind if your card was ever lost, misplaced, or stolen.
ENHANCED FRAUD DETECTION
When this feature is turned on, it will match the location of your device with the location of the transaction, thus reducing the risk of counterfeit cards being used outside the vicinity of your mobile device location.
DIGITAL WALLET
Add Wheelhouse Cards to your device's mobile wallet feature. Wheelhouse Cards are compatible devices that support mobile payments such as Apple Pay, Google Pay, Samsung Pay, Fitbit Pay and Garmin Pay. Digital Wallet