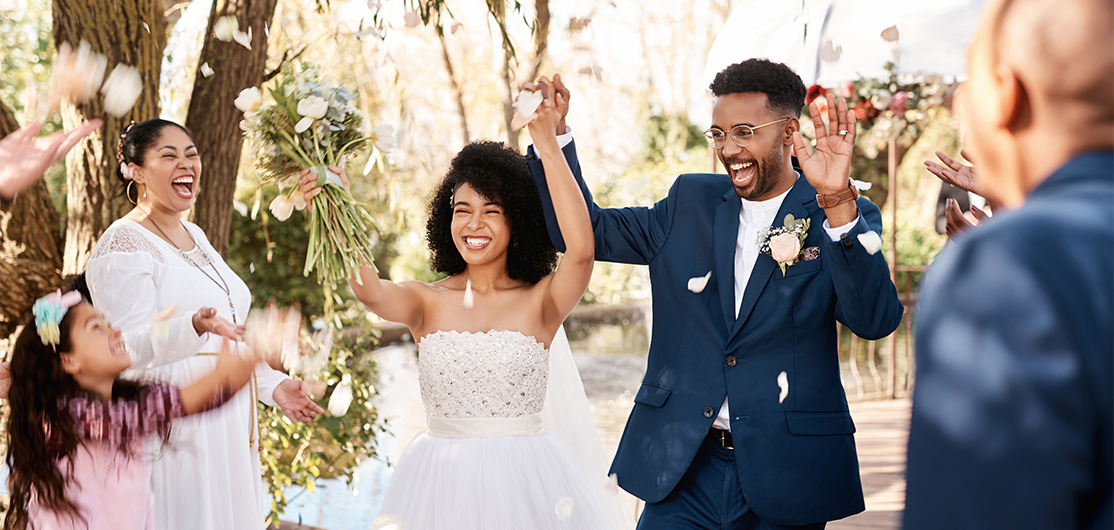 Why Taking a Personal Loan to Pay for Your Wedding Might Make Sense
Weddings are what dreams are made of. They are the start of something new and exciting, filled with hope and love. The time to come together as families and wish the next generation the best, as they move toward building a life together.
Planning a wedding is fun, but it can be stressful too, particularly when it comes to budgeting for the costs. Weddings can be expensive, but they don't have to be. The best weddings are the ones that are based on the couple's personal style and filled with love.
According to The Ascent article summarizing various wedding studies and statistics, the average cost of a California wedding in 2019 is $39,000. Whatever your budget, you may want to plan on going over by 20%, creating a cushion to help cover unexpected extra items.
There are several ways to pay for a wedding, including:
Cash from parents and family
Savings and/or a Shared-secured Loan
If you've saved up $10,000-$40,000 for your wedding, then congratulations on being a prudent planner! Although using your savings can be a comfortable way to pay for this special day, you may want to ask yourself if you want to "drain" your accounts or leave these funds for future use as a married couple. One option to do this is to use your savings for a share-secured loan. This allows you to keep your savings in your account, earning interest, and use the share-secured funds to pay for wedding expenses at a fixed-rate.
Credit Card
Although using your credit card to pay for wedding expenses can be very convenient, it can also be risky. If you plan on using a credit card as your primary tool to pay for wedding expenses, we recommend that you create a very strong budget prior to making purchases and stick to it. We also recommend that you take advantage of 0% balance transfer offers, so you can pay off this debt quickly after the wedding.
Personal Loan
As you decide the best way to pay for your wedding, one option you may want to consider is a personal loan. Personal Loans have fixed rates and terms, allowing you to obtain a loan to cover your budget and pay it back monthly for the term of the loan. Personal loans can reduce stress, as many feel more comfortable knowing exactly what they will need to pay each month and for how long. They also come with a much lower interest rate than credit cards, making the use of these types of loans to fund your wedding less risky and much more affordable.
Cash from Parents and Family
Although many of us have supportive parents and family members who will contribute to paying for wedding expenses, most couples will still need to cover some expenses on their own, particularly their honeymoon. If this is the case, we recommend referring to the above-mentioned options, suggesting a personal loan may be your best bet.
We wish all "soon to be married" couples and their families the absolute best as they plan, budget and host the wedding of their dreams. We are here to help fund the expenses in the way that makes best sense to you, so please reach out to Wheelhouse Credit Union if we can be of service.