Pros and Cons of Using Credit Cards for Holiday Purchases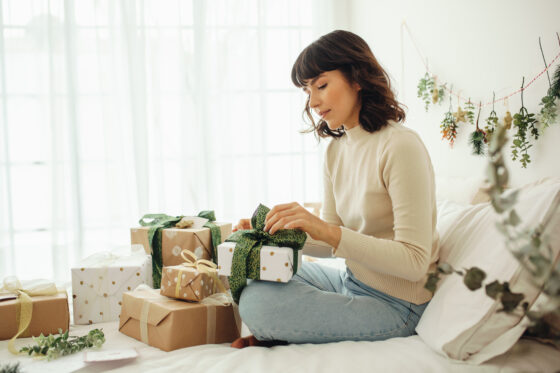 We all love the holidays – a time where family and friends are brought together by food and gift-giving. But that last part can be tricky for some. To manage holiday shopping, many people utilize credit cards which can boost your credit score and earn you perks like reward points. However, without careful planning, you could end up with an overwhelming amount of debt and negative marks on your credit report. Avoid these pitfalls by learning about the pros and cons of using credit cards for holiday purchases.
Pros of Using Credit Cards for Holiday Purchases
Reward Points
Some credit cards offer reward points for different types of purchases. Depending on your credit card, you could be earning miles, points, or even cash back. Our Wheelhouse Visa Platinum Rewards credit card offers cash back at qualifying stores and can even earn you bonus reward points such as 2x the points on utility bills and 5x the points per dollar at certain restaurants and retail locations (bonus reward points are subject to change at any time). If you manage your rewards wisely, you could see some serious benefits.
Fraud Protection
Perhaps one of the most overlooked perks of using a credit card for holiday shopping is safety and protection. The holidays are notorious for financial fraud, so it's important to do everything you can to ensure your information and finances are protected. Most credit cards have a zero-liability policy that protects you from unauthorized purchases. Make sure you carefully read your credit card's disclosure details, so you know what's covered.
Improve Your Credit
Lastly, if you use your credit cards wisely, you may potentially help your credit score. Carefully monitoring your credit card utilization and not missing payments will allow the holiday purchases on your credit card to boost your credit score (since 35% of your score is based on your payment history). For more tips on maintaining good credit health, read our blog post on How to Maximize Your Credit Card.
Cons of Using Credit Cards for Holiday Purchases
Risk of Overspending
The biggest pitfall of using credit cards for holiday purchases is simply how easy it is to overspend. Good thing we have the tips you need to stay on track this gift-giving season.
The key to using credit cards wisely is to not spend outside of your means. Essentially, if you can't afford something without a credit card, then you shouldn't purchase it. When it comes to holiday purchases, it's best to stay within your budget to avoid paying more than you need to in interest down the line.
Final Thoughts
So, should you use a credit card for your holiday purchases? When used properly, credit cards can be a convenient way to make purchases, rack up rewards, and increase your credit score all at the same time. If you're worried about the risk of overspending, the WheelhouseCards App can help you monitor your Wheelhouse credit and debit card usage, set up alerts for high-risk transactions or set spending thresholds. You can also instantly "turn on/off" cards with the click of a button.