High-Yield Checking
Earn Dividends on Your
Account Balance
with an Inspired Checking Account
Learn More
Checking Accounts With Perks Come Standard
Our Inspired Checking Account is the local leader in offering dividends as high as 3.00% APY* – that's 30x the national average!2 Plus, all Wheelhouse checking accounts come with Debit Rewards, earning points you can redeem for cash back and more. To start making the most of your checking account, stop by a Branch Location to pick up an instant-issue Debit Card if you don't have one already.
Secure Online and Mobile Banking
Access your accounts online, 24/7, 365 days a year.
Thousands of Free ATMs
You'll have access to a large network of over 30,000 surcharge-free CO-OP ATMs nationwide.
Free eStatements
Say goodbye to paper and access your statements securely online instead.
Debit Rewards
Earn 1 reward point for each $3 spent with your Visa Debit Card.
Earn Dividends
You can earn dividends as high as 3.00% APY* on your checking account balance with our Inspired Checking.
Visa Debit Card
Enjoy the worldwide purchasing power of a credit card plus the convenience of an ATM card.
Get $9.99 – $25 back
on your next purchase at select Sam's Clubs, Dropbox, Grubhub, Kansas City Steak and more in-store and online retailers.
Get 5x points per $1 at
some Blaze Pizza locations, Luna Grill and See's Candies; as well as at R&B Tea, Marc Jacobs, U.S. Polo Assn & more retail stores.
See offer details and more bonus reward opportunities
here.
Click on VIEW SAMPLE REWARDS. Go to EARN MORE > AMPRE. Search for rewards by Category, Key Words or Zip Code.
Please note: Participating merchants can change, so search often.
Enroll in eStatements
Let's face it—eStatements are safer, greener, and more convenient than receiving paper statements by mail. Switch today for free and experience the benefits:
Get eStatements quicker than mailed statements
Have access to the past three years of statements—view, print or save to your computer for offline access
Receive alerts when new statements are available
Added security—access them securely online, without risk of lost or stolen mail
Save trees and paper, and reduce clutter
Overdraft Protection
Our overdraft protection options help give you peace of mind and confidence your transactions will be paid. We offer two kinds of protection:
Standard Overdraft Protection: At our discretion, we may authorize funds to be transferred from your designated account(s) if you don't have sufficient funds in your checking account.
Bounce Guard: For qualified members, we will, at our discretion, cover payment for checks, automatic withdrawals and recurring debit transactions that may overdraw your account. Fees apply.2
Courtesy Pay Authorization Form
See below for additional disclosures for Bounce Guard.
Visa Debit Card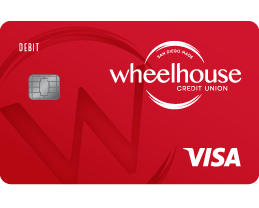 Enjoy the benefits of a Visa Debit Card with your Wheelhouse Checking account:
Easy, safe and convenient—can be used anywhere Visa is accepted
No annual fee
Compatible with Apple Pay, Google Pay, Samsung Pay, Fitbit Pay and Garmin Pay (consult your device manufacturer for a full list of compatible devices)
Provides 100% protection against unauthorized purchases**
Get a new/replacement card and change your PIN at any Wheelhouse branch (fees may apply)
Earn 1 point for every $3 spent
Debit Rewards Program
With our rewards program, you can earn points each time you use your Wheelhouse Debit Card. Earn 1 point for every $3 spent on signature-based transactions. Redeem your points online for hundreds of amazing different rewards, including:
Merchandise (e.g. appliances, electronics and jewelry)
Travel and experiences
Live concerts, theme parks and sports events
Gift cards
Cash back
Charitable donations
Explore our Rewards site
Log in to Digital Banking to view and redeem rewards
Easily order checks through Deluxe Personal Check Reorder. You can order checks online, by phone at 1-877-838-5287, or by using our mobile banking app.
You can deposit checks at a deposit-taking CO-OP® ATM, Wheelhouse Branch or remotely through the Mobile App. Be sure to endorse the check before depositing. To do so, turn the check over and sign your name on the back in the designated space.
Ready to open a Wheelhouse Checking Account?

Back to Top
Disclosures
*APY = Annual Percentage Yield
1Double Rewards – Bonus points will be posted to your account following the completion and verification of qualifying transactions. For a complete list of qualifying categories, visit WheelhouseCU.com/BonusRewards. Rates and terms are subject to change without notice. All loans are subject to credit approval. The APR will vary with the market based on the Prime Rate. Contact Cards & Operations at (619) 297-4835 with disputes regarding qualifying transactions.
2Presented by the National Association of Federal Credit Unions in cooperation with SNL and Datatrac. Rates based upon a survey of 283,924 financial institution locations in 19,663 markets across the United States as of 03/09/2023.
Rates and terms are subject to change without notice. All loans are subject to credit approval. The APR will vary with the market based on the Prime Rate. Contact Cards & Operations at (619) 297-4835 with disputes regarding qualifying transactions. Membership is required.
2The Bounce Guard fee is a flat fee of $29.00 regardless of the amount the account is overdrawn and will be charged for each overdraft item presented and paid. See additional disclosure below.
Bounce Guard Additional Disclosure:
We will send you a notice for each item covered by the Bounce Guard Service. Whether your overdrafts will be paid is discretionary and we reserve the right not to pay items. For example, we may not pay overdrafts if your account is not in good standing, you are not making regular deposits, you have had too many overdrafts, or your account has been overdrawn for an extended period of time. Any negative balance resulting from the use of Bounce Guard must be satisfied within 30 days. We encourage you to properly maintain your accounts with us. You agree that we will not be held liable for either paying or refusing to pay any overdraft item.
The Bounce Guard overdraft service is a discretionary privilege offered to members and not a right of membership. Bounce Guard is not available for Access Checking Accounts. We reserve the right to discontinue this service at any time without any notice.
** If there is unauthorized use of your Visa Debit Card or an unauthorized Interlink transaction, and the transaction takes place on the Visa network, then your liability will be zero ($0.00).
Visa's Zero Liability policy does not apply to ATM transactions or other PIN/POS transactions not processed by Visa. Your liability with respect to unauthorized transactions may be greater than zero ($0.00) if we can determine that you were grossly negligent or fraudulent in the handling of your account or Card.
You will have no liability for unauthorized use of your Visa Debit Card that results from its loss or theft if you report the loss or theft to us at 619-297-4835 within two (2) business days. If your statement shows unauthorized use, your liability will be no more than $50.00 if you tell us within 60 days of statement mailing date.