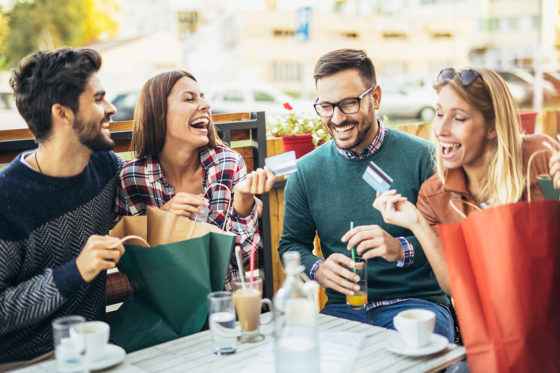 CREDIT CARDS
TURN TODAY'S EXPENSES INTO TOMORROW'S REWARDS
Apply online
LOW INTEREST RATES AND HIGH REWARDS
Give your spending power a lift. Both of our Wheelhouse Credit Union Visa® Platinum Credit Cards offer competitive rates and worldwide purchasing power, and when you opt for our Rewards Card you earn rewards points for every dollar spent on purchases.
Earn Rewards
For a limited time only! Starting May 1 to June 30, 2019, earn double rewards when you use your Visa Debit Card or Visa Platinum Rewards Credit Card at select merchants. When making purchases, be sure it's a signature-based transaction instead of a PIN transaction. Double Rewards details
Digital Wallet
Enjoy the convenience of digital payments! All Wheelhouse Cards are compatible with Apple Pay, Google Pay, Samsung Pay, Fitbit Pay and Garmin Pay (please visit your device manufacturer for a full list of compatible devices). Digital Wallet
Free Online and Mobile Access
Access your cards online, 24/7, 365 days a year through the Wheelhouse Cards App. Manage alerts, suspend if lost or stolen and many more features.
Wheelhouse Card App
Competitive Rates and No Annual Fee
We offer competitive interest rates, based on your credit score.
Generous Grace Period
We offer a generous grace period on purchases, so you have more time to pay your bill before incurring interest.
Balance Transfers
With our low 1% balance transfer fee, it's easy to transfer your high interest balances to your lower rate Wheelhouse Visa Credit Card.
Generous Credit Limit
Both of our Visa credit cards have limits up to $20,000
Today's Credit Card Rates
VISA® Platinum Credit Card
Our Visa® Platinum Credit Card has no annual fee, a competitive interest rate based on your credit score, and security features that offer peace of mind.
VISA® Platinum Rewards Credit Card
Our VISA® Platinum Rewards Credit Card offers all of the same great benefits as our Platinum Credit Card, but you'll also earn rewards points for every dollar spent on purchases.
Earn big rewards with our VISA® Platinum Rewards Credit Card
Earn points when you use your VISA® Platinum Credit Card to make purchases. Easy! Then redeem your points online for hundreds of amazing different rewards, including:
Merchandise (e.g. appliances, electronics and jewelry)
Travel and experiences
Live concerts, theme parks and sports events
Gift cards
Cash back
Charitable donations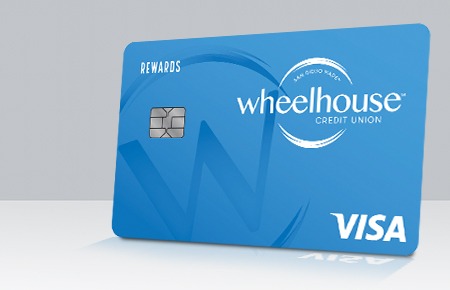 Debt and Credit Calculators
Give us a call at 1-844-484-0045 right away and we'll help you.
Give us a call at 1-844-484-0045 right away and we'll help you get your card activated.
If you have an open credit card with us, you can request a copy of your individual credit card agreement by completing and submitting the electronic form on this page or by calling the credit union at 619-297-4835. When we receive your request, we will mail you a copy of your agreement.
Ready to apply for a Wheelhouse Credit Card?

Back to Top
Disclosures
Please Note: Verified by Visa enrollment is no longer required on Wheelhouse Credit Union cards, but rest assured that your Visa card transaction is still secure. Your security is important, and therefore we have deployed advanced risk detection technology to monitor transactions which removes the need for passwords, allowing you to shop without interruption.